Nepal Sambat 1143 Celebration Commemorating Shankhadhar Sakhwa
"Nhu Danya Bhintuna, wishing you all a Happy New Year – Nepal Sambat 1143!!"
Newah Organization of America (NOA) cordially invites you and your family to participate and celebrate Nepal Sambat 1143 (the National Era of Nepal) commemorating Founder and Legendary Sankhadhar Sakhwa, a National Hero at the following venue.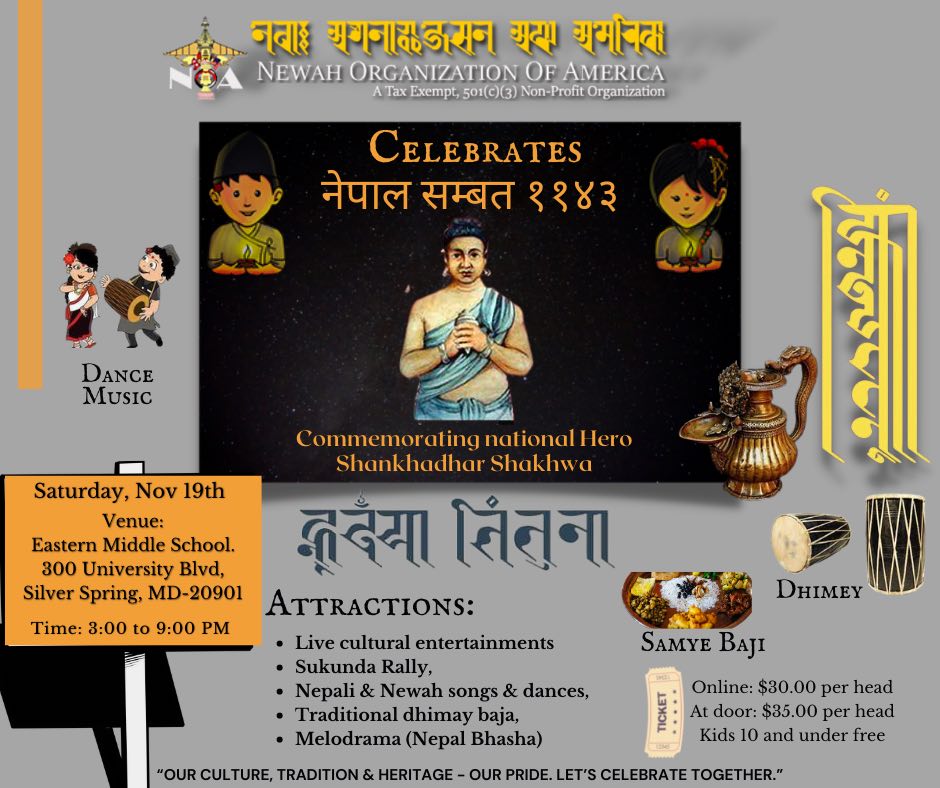 Program consists of wonderful & live cultural entertainments including
– Live cultural entertainments
– Sukunda Rally
– Nepali & Newah songs and dances
– Traditional dhimay baja
– Nepal Bhasa melodrama
– Traditional Samay Baji and steaming dinner
---
About US
Welcome to Newah Organization of America! Newah Organization of American (NOA) is a non-Profit Tax-Exempt Organization registered in the USA.
Newah Organization of America (NOA) would like to take this opportunity to share the very good news that it has recently launched a brand new website with a much-improved layout, and a more dynamic, user friendly, and mobile device responsive design. This new version of the website is very user friendly for all kinds of PCs, tablets, smart phones, and other kinds of mobile devices.
Please send us your feedback and visit us again.
Background:
The time has come for our Newah community to understand and recognize many important issues and developments taking place around us and the impact it has on our community here in America and in our homeland Nepal.
To face this challenge and answer the need, aspirations and demand of our community in this 21st century, a new and relevant organization has to be created.
Mission Statement:
To provide a democratic forum for the Newah community to advance in all field of human activities, keeping in perspective the rich historical heritage of the Past, working creatively and collectively with friends and well-wishers to resolve important issues of the present and to secure the future for the coming generation and our country Nepal.
To advance the Newah community into the mainstream of American Life and foster strong ties with compatriots in our homeland Nepal.
To provide able and effective leadership and enhance the historical, socio-economical, cultural, language, literature, educational and techno-scientific bases of the community for developing an intelligent, compassionate, and creative Newah persona.
---
Donate