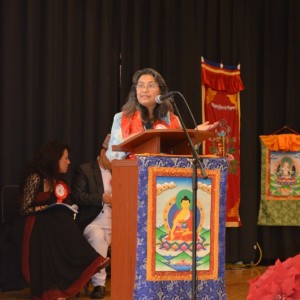 Jwojwolapa Honorable Chargé d'affaires Mr. Rishi Ram Ghimire-ju, NOA President Season Shrestha-ju, Mr. Jakami-ju, Dr. Jessica-ju, and everybody!I would like to extend my sincere thanks to the President of Newah Organization of America (NOA) Mr. Season Shrestha and the Executive Members for inviting me as the Chief Guest and Keynote Speaker for the 13th Annual Convention of NOA. I am honoured to be the Chief Guest of NOA, especially honoured to find myself in the list of renowned preceding Chief Guests such as Manik Lal Shrestha, Satya Mohan Joshi, Padma Ratna Tuladhar, Durgalal Shrestha, Indra Mali, and so on. I am also delighted to see my old friends at this Convention, whom I had not seen for decades, some as long as 45 years. I am especially overjoyed to see Vijaya Laxmi (Shrestha) didi whom I call "my sister" and whom I have not seen for 42 years. I truly appreciate and thank her from the bottom of my heart for flying in from Ohio, especially to see me. I am also pleased to make new friends today, who made me comfortable at this Convention. My sincere thanks to all who helped me in this trip, especially to Season bhai who helped me all along even before I came to Baltimore, to Kiran Ranjit bhai, and to Chitra, Ram Lal, and Sabrina for sharing their home with me.
You must be as surprised to see an unknown person standing in front of you today as I was when Season-ju invited me. When I reminded him that I am an unknown figure outside of Kathmandu Valley and that so far I have written just a few books in Nepal Bhasha, meaning I am not a famous scholar as those I just mentioned above, he tried to convince me that he and NOA "are trying to give recognition and encouragement to those writers in Nepal Bhasha who have been contributing from outside of Nepal and who are serving for Newah cause. And NOA also (for the first time) wanted to specially honor a female Newah activist and writer by inviting her as a Chief Guest." I was totally convinced and thus, accepted his invitation.
So last week, when Season-ju called me he requested that I give a speech on "Diversity among the Newars," this year's theme of NOA. I was pleased to hear this timely topic. Besides, given my academic background in Population Studies (Demography), my marriage into a different Newar caste, my travel to more than half of 75 Districts of Nepal, and living with Newars from diverse background and with other ethnic groups for three years in the Tribhuvan University hostel while I was a MSc student in the early 1980s, fit well with this topic. However, given the short notice and the broadness of the topic, I kept asking myself "Would you be able to put together a strong speech in a few days?" Fortunately my answer was positive every time I asked the question. Today, I will be focussing on only a few important areas among the diversities within the Newar societies.
Newah Organization of America July 14th, 2015