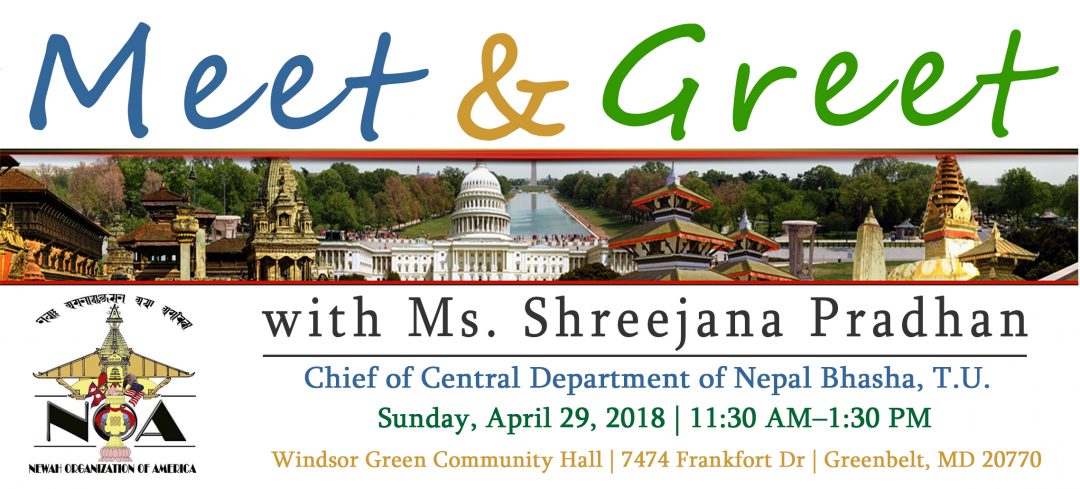 Dear NOA Friends, Family and Community Members:
Jwojalapa!! Namaste!!
It is very pleased to inform with you all that, Ms. Shreejana Pradhan, Chief of Central Department of Nepal Bhasha, T.U. is vising to USA to participate forum on Indigenous Issue at United nation in New York.
Newah Organization of America (NOA) cordially invites you to join an informal gathering to meet and Interaction Program with Ms. Shreejana Pradhan,
Please join us to personally meet and interact with Ms. Shreejana and hear about her work, experience and its impact and benefit to Newah community
Event: Meet and Greet with Ms. Shreejana Pradhan
Date: Sunday, April 29, 2018
Time: 11:30–1:30 PM
Venue: Windsor Green Community Hall
7474 Frankfort Dr
Greenbelt, MD 20770
Lunch will be served.
Please contact NOA executive member to confirm your attendance or with any questions. We appreciate your time and look forward to seeing you at the event. We would like to apologize for a short time notice.
Subhaye,
Sincerely,
The Executive Committee
Newah Organization of America
Newah Organization of America April 26th, 2018