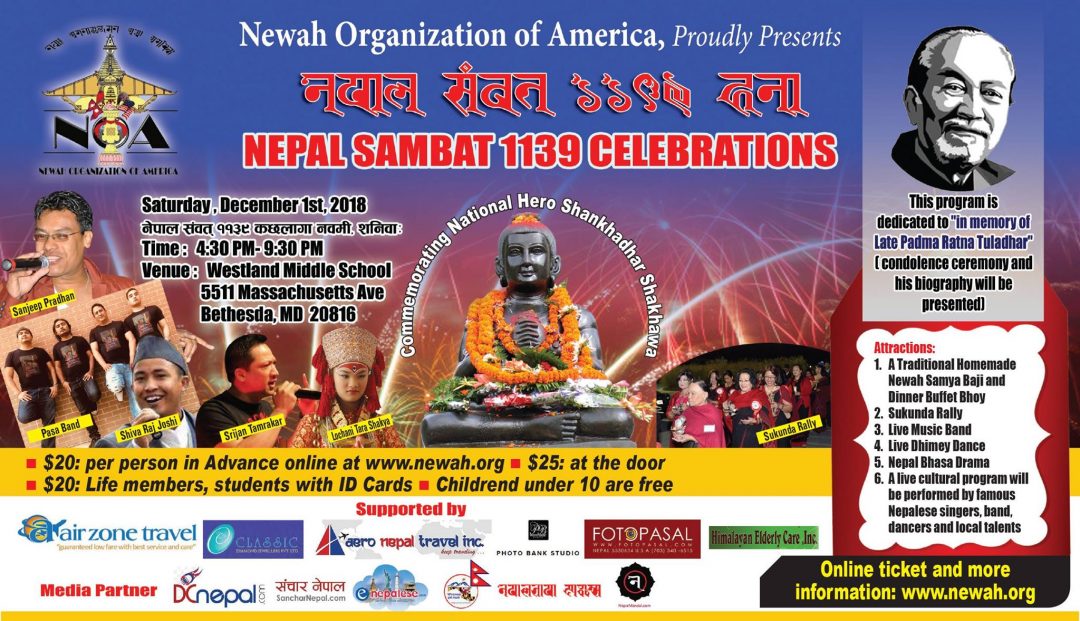 नेपाल सम्बत ११३९ न्हुदँ नापं राष्ट्रिय बिभुति शंखधर साख्वा यात हना ज्याझो !
Nepal Sambat 1139 Celebration commemorating Legendary Shankhadhar Sakhwa
Dear Community Member Friends and Families,
Jwajalapa! Namaste!!
नेपाल संबत् ११३९ न्हूदंया लसताय् दुनुगलंनिसें भिंतुना !
Wishing you all a Happy New Year – Nepal Sambat 1139!
The Newah Organization of America (NOA) cordially invite you to join with your family and friends to attend Nepal Sambat 1139 (the National Era of Nepal) celebration commemorating Legendary Shankhadhar Sakhwa. The program will begin with a traditional "SUKUNDA" procession.
Nepal Sambat is an indigenous creation of its legend and a unique calendar named after our country and a symbol of Nepal's glory, national unity and pride of all Nepalese people.On this occasion NOA will tribute in memory of NOA's Honorable Member Mr. Padma Ranta Tuladhar
We will have an exciting and diverse program featuring :
* A Traditional Homemade Newah Samaya Baji and Dinner Buffet Bhoy
* Live Dhimey Dance
* Live music Band
* Nepal Bhasa Drama
* Sukunda Rally
* A live cultural program will be performed by famous
Nepalese singers, dancers and local talents
Admission fee
$20: per person in Advance online
$25: at the door
$20: Life members, students with ID Cards
Free: Childrend under 10 are free
Online ticket and more information: www.newah.org .
Please share this announcement with your friends and family. Everyone is welcome !!!
PROGRAM SCHEDULE (TENTATIVE):
4:30 pm – 5:30 pm: Traditional Welcome Ceremony/Samay Baji
5:30 pm – 6:00 pm: Sukunda Rally
6:00 pm- 6:45 pm: Opening Ceremony
6:45 pm – 7:00 pm: Condolence Ceremony of Late Padma Ratna Tuladhar
7:00 pm – 9:30 pm: Live Culture Programs/Certifications/Newah Buffet Bhoye
Thank you very much in advance for your participation and continued support to NOA. Please share this announcement with your friends and family!!
Subhaye – Thank you!
The Executive Committee
Newah Organization of America
Newah Organization of America October 31st, 2018