Nepal Sambat 1143 Celebration Commemorating Shankhadhar Sakhwa
"Nhu Danya Bhintuna, wishing you all a Happy New Year – Nepal Sambat 1143!!"
Newah Organization of America (NOA) cordially invites you and your family to participate and celebrate Nepal Sambat 1143 (the National Era of Nepal) commemorating Founder and Legendary Sankhadhar Sakhwa, a National Hero at the following venue. Please mark your calendar. The program will be broadcasted live in collaboration with eNepalese, THV media via Facebook/NOA group page as well.
Date: Saturday, November 19, 2022
Venue: Eastern Middle School, 300 University Blvd, Silver Spring, MD 20901
Time: 3:00 PM to 9:30 PM
Note: Admission fee of $35.00 per person, $30.00 for life members and students with ID and Online Purchase. Children under age ten are free.
Nepal Sambat is an indigenous creation of its legend and a unique calendar named after the country and is a symbol of Nepal's glory, national unity and pride of all Nepalese people. The NOA team and the community will be honored and pleased to have you all join together on this important event to exchange felicitations and strengthen friendship. Program consists of wonderful & live cultural entertainments including Sukunda Rally, Nepali & Newah songs, dances, traditional dhimay baja, melodrama (Nepal Bhasa) presented by well-known and popular artists from the DMV area. Please come and enjoy delicious traditional Samay Baji and steaming dinner.
Thank you very much in advance for your participation and continued support to NOA. Please share this invitation with your friends, family, and well-wishers.
"OUR CULTURE, TRADITION & HERITAGE-OUR PRIDE. LET'S CELEBRATE TOGETHER."
Thank you and Subhaye!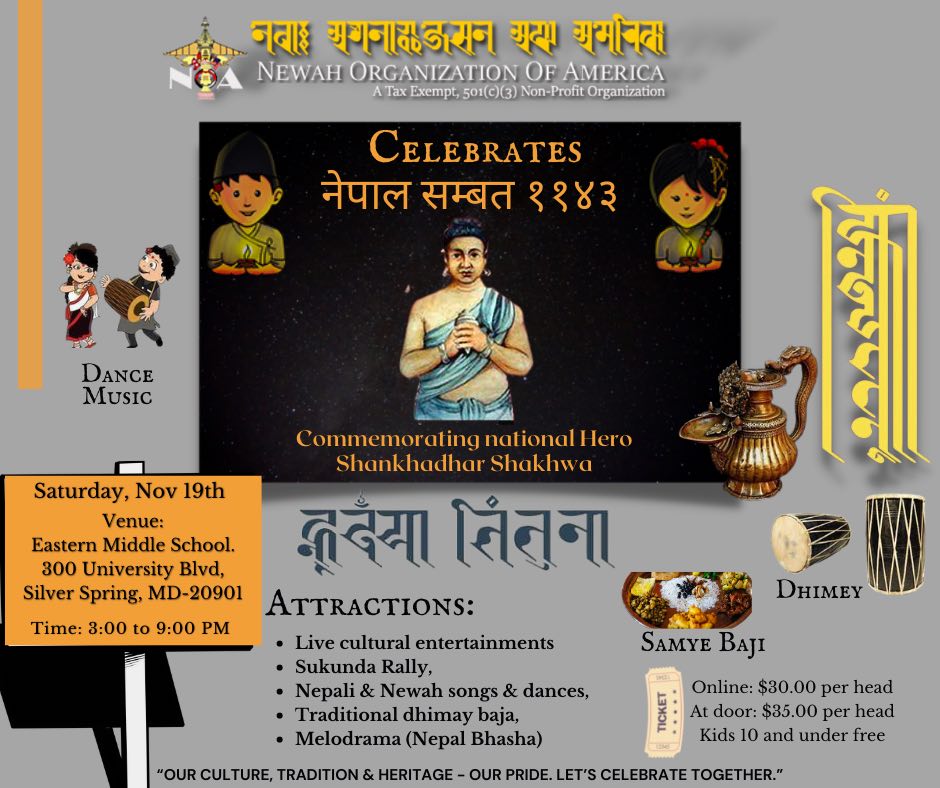 Newah Organization of America November 8th, 2022