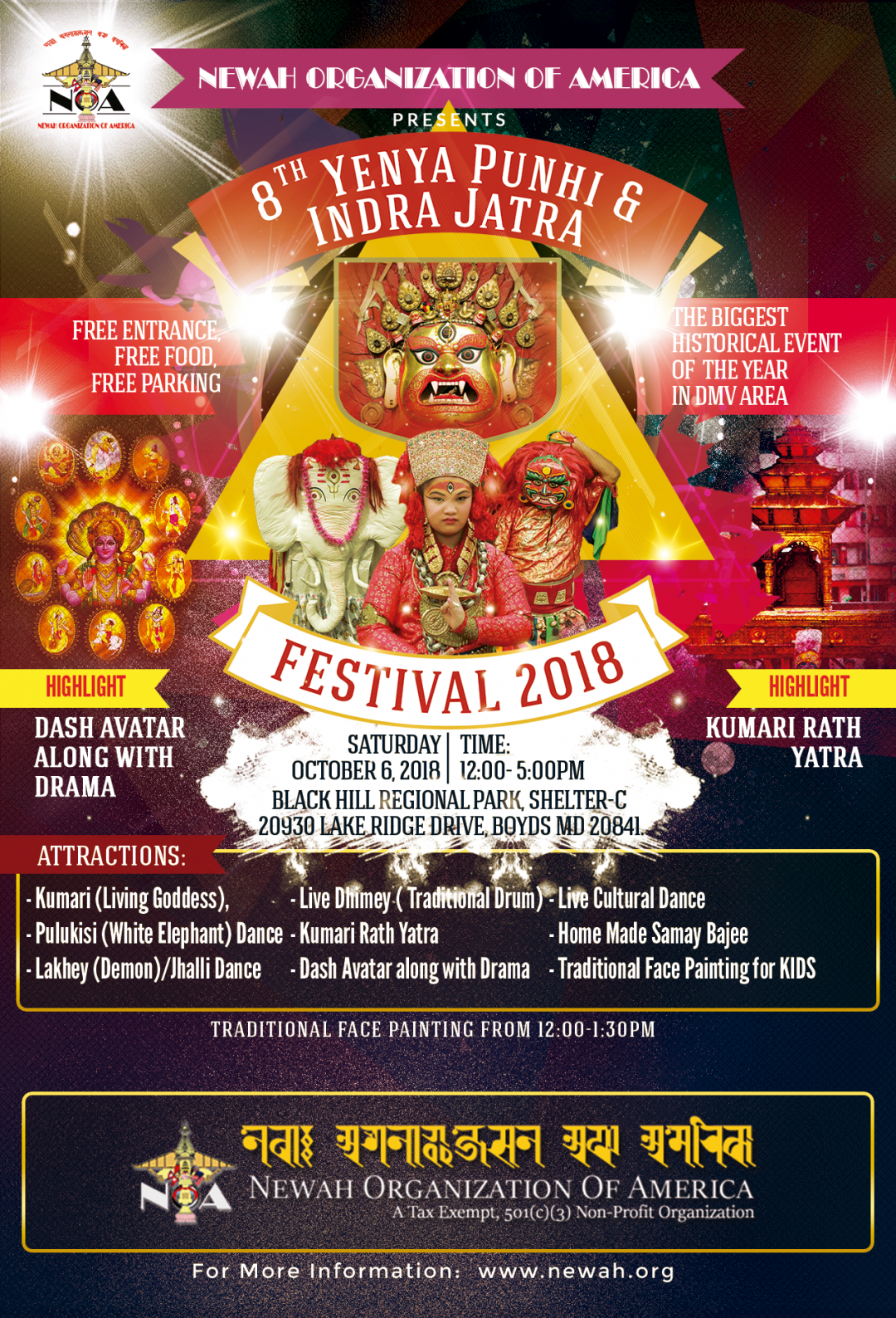 Dear Community Members, Friends and Family:
Jwojolapa! Nameste!
Newah Organization of America (NOA) is pleased to announce 8th Annual Yenya Punhi (Indra Jatra) Samay Bajee Gathering on Saturday, October 06, 2018 in Washington, DC Metropolitan area. Yenya Punhi (Indra Jatra) is one of most significant religious street festival of Kathmandu valley and represents unique culture diversity of Newah civilization.
We cordially invite you along with family and friends to join the outdoor gathering at the Black Hill Regional Park. Please come and enjoy authentic Newah food Samay bajee, symbolic traditional presentation of Pulukisi (White Elephant), Lakhey (Demon), Kumari (Living Goddess), and many more this year at:
Date: Saturday, October 06, 2018
Time: 12:00 – 5:00 pm
Venue: Black Hill Regional Park, Shelter-C
Address: 20930 Lake Ridge Drive, Boyds MD 20841
We hope to see you all to celebrate in this festival. Everyone is welcome to bring their favorite dish to share with friends and family!! Please stay in touch following persons if you would like to contribute cash, food, drinks. Please follow us on facebook page.
Sincerely,
The Executive Committee
Newah Organization of America
For more information please contact:
Mr. Pushkar Prajapati (703) 270-8456 or pushbill@gmail.com
Mr. Sushil Lal Shrestha (571) 278-7702 or sushillalshrestha@hotmail.com
Mr. Mahindra Pradhan (301) 821-2796 or mpradhan33@gmail.com
Mr. Diwakar Dhaubhadel (301) 633-0730 or ddhaubhadel@yahoo.com
Mr. Rajesh L. Shrestha (301) 905-7348 or rajeshlshrestha@hotmail.com
Mr. Yagya Man Shakya (347) 276-4846 or yagyaman@gmail.com
Mrs. Meena Joshi Pradhan (443) 604-0478 or munaandravi123@yahoo.com
Mr. Udaya Shrestha (301) 257-6305 or shrestha14@gmail.com
Newah Organization of America July 26th, 2018