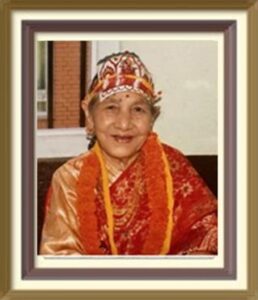 Dear NOA Founding Members, Life Members, Friends & Community Members!
Jwojalapa! Namaste!
The Newah Organization of America (NOA) families are deeply saddened to share the sudden passing of Mrs. Gyani Maya Shakya beloved mother of NOA's Immediate Past President Mr. Yagya Man Shakya and mother-in-law of Mrs. Mahima Shakya.
Mrs. Shakya passed away at the age of 97 years on Tuesday, July 25, 2023, in Hakha Tole, Lalitpur, Nepal. She was survived by five sons and five daughters-in-law, two daughters and one son-in-law, nine grandsons and nine granddaughters-in-law, eleven granddaughters and eight grandsons-in-law, and nine great-grandsons and six great-granddaughters. We regret the loss of one of our own very prominent Newah community members who has touched many lives, served, and contributed so much during her lifetime.
The NOA extends heartfelt condolences to the entire Shakya family. May God give strength and peace to the bereaved family members. Our thoughts and prayers are with Mr. Yagya Man Shakya & Mrs. Mahima Shakya and their loved ones during this difficult time.
Let us pray for the eternal peace of the departed soul!
Sincerely,
The Executive Committee
The Newah Organization of America (NOA)
नेवा: अर्गनाइजेसन् अफ् अमेरिका
Newah Organization of America July 30th, 2023
Posted In: News